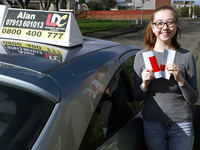 Lauren Hay
Gave me confidence
I would highly recommend Alan as a driving instructor. He was very flexible with my lessons as I had university and work to manage as well and was able to always fit in a lesson. He was always extremely patient with me and gave me all the confidence I needed throughout my lessons to enable me to pass. Thank you Alan for all your support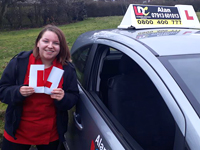 Isla Kilcullen
Always flexible
I would highly recommend Alan as a driving instructor, with working full time and having a busy schedule, Alan was always so flexible with my lessons which where all over the place. Alan was so patient with me gave me so much support with driving and and test nerves which helped me pass my test confidently. Thank you!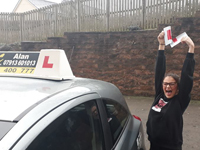 Stephanie Nicholson
Lucky enough to discover him
I first started learning how to drive with Alan after reading all his positive reviews and testimonials online. At the beginning I had very little confidence in my driving as I had never learned with a professional as had previously learned on and off with family members with no avail. My first lesson with Alan left me feeling 10x more confident than I ever had been and he really encouraged me to keep going and although it took a long time, I finally realised I wasn't as bad as I thought I was. There was times that I felt I was performing awful during a lesson however having Alan by my side helped me remain calm and keep going. Alan has the patience of a saint and he has not only been an amazing driving instructor for me but acted in a second role as my therapist during my lessons – with no extra charge! (Sorry Alan, but thank you for all your support!!) Even during the few lessons before my practical test, he reassured me that he wouldn't have encouraged me to book my practical if he didn't think I was ready. His confidence in my driving really helped me get into an "I CAN DO THIS" mindset – and I managed to pass first time :) I would recommend Alan 100%, I was lucky enough to discover him when I did and ecstatic that I listened to him and decided not to cancel my test due to nerves on test day. Thank you again Alan!!!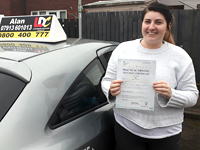 Siobhan Birney
Sailed out of test centre
Would highly highly recommend Alan as a driving instructor. He completely understood my time constraints due to me juggling work, uni and a placement and understood and supported the pressure my work had me under to pass my test. I felt prioritised and Alan was willing to work round me which made me feel more supported. Alan has the patience of a Saint and a calm manner which mirrored onto me. I was terrified of roundabouts before doing lessons with Alan but sailed out of the test centre roundabout with absolutely no fear!! I can't thank Alan enough!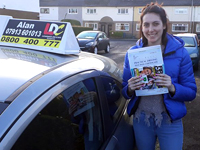 Sophie Ferguson
Calmer and more confident
Would highly recommend Alan as an instructor. The amount of times I felt stressed out he'd make me feel a lot more calmer and more confident behind the wheel. Only took 4 attempts but finally was able to pass. He's got the patience of a saint and doesn't make you feel you have to stress out when driving!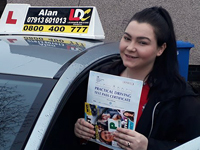 Charmane McGrory
Professional and approachable
I would highly recommend Alan as a driving instructor! He is patient, calm, professional and approachable! He was happy to help with anything I wasn't quite sure of and made me feel comfortable and confident behind the wheel. Alan gave me the push I needed to believe in myself which has resulted in me getting my licence. He has taught both my sister and I now and I wouldn't recommend anyone else.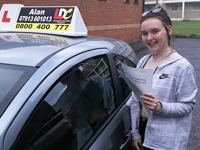 Chloe Kennedy
Above and beyond
Couldn't recommend Alan enough!! The patience he had and the confidence he gave me was above and beyond!! If he's got the patience for me he's got the patience for anyone. Thanks for everything Alan!!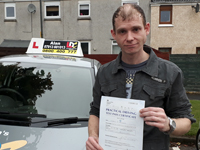 Craig McGhee
Thanks again
Hugely grateful to Alan for his help in passing my test. Hated driving but thanks to Alan's tuition and patience managed to just dislike it just enough to pass. Would highly recommend to anyone. Thanks again Alan.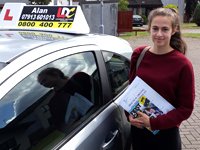 Lucy Connor
Great instructor
Huge thanks to Alan for all his help and patience, I couldn't have passed first time without him. He is a great instructor and I highly recommend him!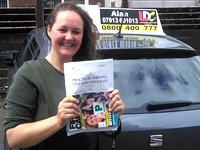 Donna Thorburn
Fantastic
Thanks again Alan! For anyone out there looking for a driving instructor Alan is a fantastic instructor who shows immeasurable patience and teaches in a way that you understand how the car works and how you are fully in control of it. I was an extremely nervous learner but with Alan's amazing help I was able to get there. I'd highly recommend Alan to anyone.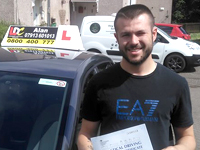 Jason Morris
Second to None
Big thank you to Alan for helping me pass my driving test, couldn't ask for a better instructor very patient and the attention to detail to make sure every aspect is covered is second to none.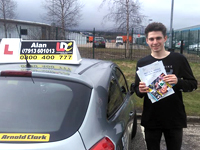 Kieran Connor
HighlyRecommend
Big thank you to Alan for helping me to pass first time! Would highly recommend Alan, he is a great instructor with patience and helped me to become more confident when driving. Thanks again!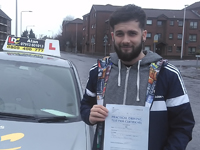 Martin Dorrian
Easy to understand
Would highly recommend Alan, exactly the kind of instructor I needed to get through this! Patient, calm, supportive, taking time to explain why I had to do certain things, and breaking elements down in an easy to understand way. Not afraid to tell you where you are going wrong and quick to give praise when you have done well. Great sense of humour and I had a lot of very enjoyable lessons just having a blether! Thanks very much mate
Kelly Batey
Appreciate all your help
Thanks Alan for helping me pass my test. Thank you for your patience when my nerves got the better of me. Appreciate all your help.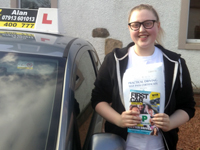 Ella Chadwick
Thank you
Thank you for everything you have done so I would pass. Thanks again.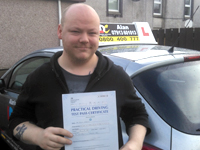 Kris Martin
Would gladly recommend
Alan is a great driving instructor, he is very patient and helpful during the lessons. I was able to pass my test with his help and would gladly recommend him to others who are going to start learning to drive.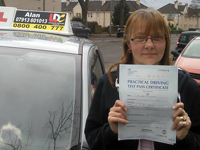 Marie Johnstone
Thanks Alan for helping me pass my test. This is another chapter in my life because of you x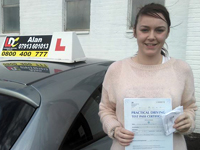 Amanda Bett
Patience of a Saint
Honestly can't be be more thankful to Alan. I had no confidence to even drive in a straight line. Alan was amazing with me must have the patience of a Saint. Now I have passed I can take my children anywhere I like. Thank yo Alan, can't thank you enough for everything xx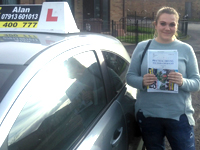 Aleksander Burkiet
Excellent instructor
A huge thank you to Alan. Great instructor, very patient and calm. Made me feel very confident on the road even when I wasn't sure what to do. His friendly approach made me enjoy every lesson we had. I would highly recommend him to anyone looking for an excellent instructor. Thanks Alan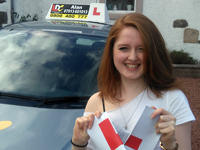 Jemma Chadwick
Pass in a week
Can't recommend enough. Alan has so much patience and great teaching style. Thank you for helping me pass in a week!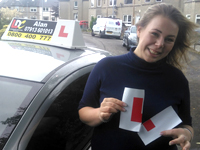 Ellen Joelle Hofer
Could not be happier
'Alan is a smart, kind and calm instructor with an excellent sense of humor. You'll spend your time learning to drive feeling supported, reassured and likely in an good conversation, easing you into becoming as competent, adaptable and confident a driver as you can be. Could not be happier; willing to bet others will agree!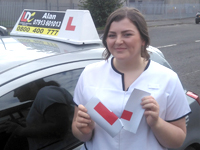 Lorna Filshie
First time pass
First time pass, all thanks to Alan Gallacher
Mirin Paxton
Highly Recommended
First time pass with only two minors absolutely ecstatic, but i could not have done it without the wonderful Alan Gallacher he is such an amazing instructor and has all the time and patience in the world!! I would HIGHLY recommend him to everyone ! 😁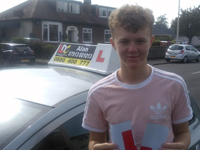 Rhys Thorburn
Enjoyable experience
Brilliant Instructor! Highly recommend Alan friendly, reliable and made learning to drive an enjoyable experience.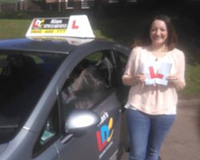 Lynette Cameron
Glad He Was My Instructor
I can't recommend Alan highly enough and I am very glad that he was my instructor. Not only is he a very friendly and likable person he clearly loves his job and takes pride in seeing his pupils progress and pass. From lesson 1 we discussed a realistic timeframe for my test and Alan understood my motives and fears and tailored his advice and analogies so that I could easily relate. I was very stressed about driving, had low confidence and bouts of absolute panic. But no matter how panicked I got or how many mistakes I made not once did Alan ever deviate from being completely calm, relaxed and supportive, even when I continually forgot my left and right! I always felt safe and supported with Alan and he continually helped me to build up my confidence reassuring me at every step. He is a natural teacher and I can't thank him enough. I highly recommend him to anyone looking for an excellent patient instructor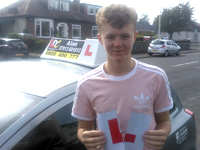 Rhys Thorburn
Enjoyable experience
Brilliant Instructor! Highly recommend Alan friendly, reliable and made learning to drive an enjoyable experience.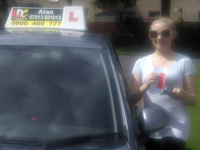 Nadine Thorley
Patient and friendly
Alan is a very patient and friendly instructor helped me gain the confidence to sit and pass my driving test would highly recommend .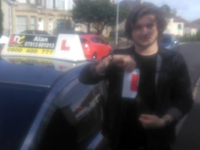 Kyle Dickson
Wonderful Instructor
Alan is a wonderful instructor who helped me gain the confidence to sit my driving test and was able to work around me. Always gives you confidence, and always up for a laugh too. Great guy all round and i highly reccomend him. Without him i wouldn't have passed, Literally!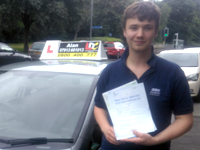 Lachlan Kirk
Can't recommend enough
I was quite apprehensive about starting to learn to drive, but Alan's disarming approach and ability to make me feel like no question was a stupid question really set me at ease . He's got a great way of explaining things comprehensively and I cannot recommend him as an instructor enough.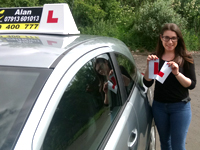 Soraya Cardoso
Awesome
Passing first time was all down to Alan! His calm and friendly approach made me feel so relax and enjoyed all my lessons. He was awesome and the best instructor I could of asked for. Thanks for everything 😊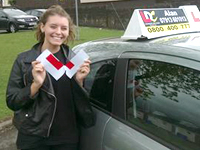 Gemma Currie
Helped Me Pass
I started with Alan a couple of months ago, where I had previously had some knocks with driving, and needed someone with patience and would help me over come nerves. Alan did exactly that and keep my confidence up and helped me pass my test! He's an excellent driving instructor and would highly recommend. Thank you so much Alan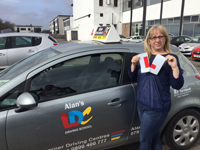 Clare Weir
Very patient with me and great at explaining everything
Thanks for everything. I came across Alan by chance and was put at ease and felt very comfortable with Alan from the get go. I had lesson 6yrs ago but wish I had Alan then. He was very patient with me and great at explaining everything. Highly recommended Alan and wouldn't of passed if it wasn't for him and all his reassurance in my abilities. Can't thank you enough.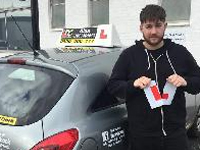 Alistair McNaul
1st time pass
Alan is a patient and reassuring instructor who is able to give you both the skills and confidence needed to drive. His ability to highlight areas that need to be worked on and to then help you correct them is second to none. I'm very happy having passed first time and can't recommend Alan highly enough.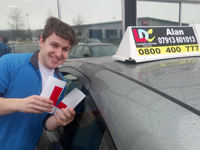 Richard Montgomery
The lessons were enjoyable
Alan was a great driving instructor, who was very patient throughout lessons which made it easier for a nervous first driver. The lessons were enjoyable, so much so that i missed them a bit when it was over. He also gave great confidence for my first independent drive after passing, and I couldn't have done it without his help.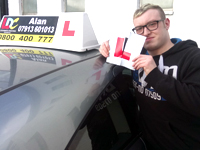 Ally Thompson
Definitely recommend
Alan is a terrific instructor, would definitely recommend him to everyone. When I first started off learning I had no confidence and was really nervous. I had 2 instructors before but I lost interest in driving for a couple of years until I decided to give it another shot. Alan gave me confidence and self belief that my driving ability was decent. Alan also made a few tweaks in my driving and made me a better driver. After failing a couple of tests Alan kept me believing in my self to keep myself going and that I would pass. I would like to thank Alan for his confidence in me and I know I wouldn't have passed without him. Thank you for everything Alan.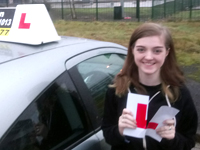 Ally Yeoman
100% Recommended
Would 100% recommend to anyone wanting to learn to drive. Lessons were fun and enjoyable and in a comfortable atmosphere which is what is needed when learning to drive. He only wants you to do your best. Can't thank Alan enough for teaching me!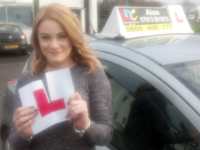 Hollie Huntriss
100% Recommended
Alan was really good and always made me feel confident in my driving ever since our first lesson. Always teaching me the easy ways not like some of the other instructors I had, and I would 100% recommend Alan to everyone!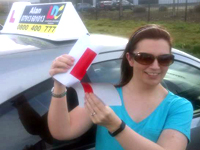 Laura Hendren
Thanks
Thank you for all your patience, help and support. Never thought I would get there but I did it with all your encouragement and building my confidence. Thanks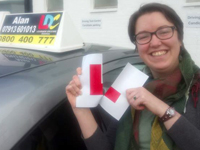 Catriona Gairns Duddy
I couldn't recommend him highly enough
Alan has a great style of teaching and made me feel really at ease - even as an absolute novice. The analogies that he used to explain things really helped me to understand the skills that I was learning. I couldn't recommend him highly enough!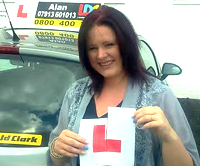 Mandy Robertson
Alan changed my whole thinking about driving
Before I started learning to drive with Alan I was a nervous wreck and had no confidence in my ability to drive at all. After several failed attempts at tests and 7 years of trying under my belt Alan made me believe I could do it. In the 6 months that Alan taught me he changed my whole thinking about driving and taught me more about driving than I had learned in the 7 years previous. He has a great teaching technique and would explain things in a way I could relate to. He has the patience of a saint and is a friendly instructor. Alan also helped me with my confidence and I am so grateful to him that I can finally say I have passed my test and that I am a good driver! Thank you so much Alan!!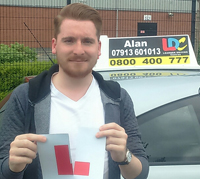 Peter Sullivan
1st time pass
No doubt passing first time (on Friday the 13th no less) was all down to Alan. From the beginning he was patient, encouraging and knowledgeable. Always able to explain any tricky aspects of driving with a handy football analogy.... I'm sure he knows other types of analogies as well but football worked for me. In particular on the morning of my test when I was quite nervous. Alan advised me to think of approaching in the test the way Athletico Madrid play football... 'Keep the ball, keep it simple, nothing flashy and you'll get the desired result'. I certainly did! Thanks Alan!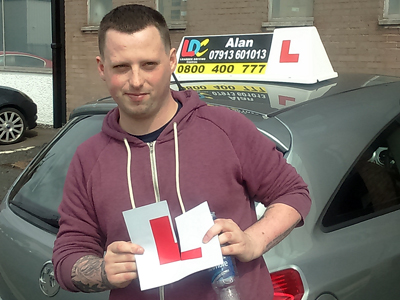 Callum Milne
1st time pass
I had a lack of confidence in myself from not doing no lessons in along time and wasn't sure what to expect, Alan was brilliant very patient, friendly and cool-headed with myself, He will help you get your confidence back up straight away and help you get to where you want to be. I would recommend Alan and the LDC course to everyone who want to drive now rather than later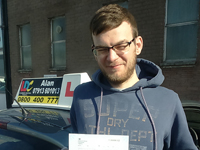 Andy Smith
1st time pass
Thanks again, couldn't have done it without you.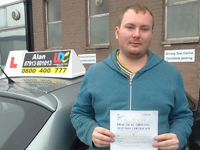 Lee Grozier
1st time pass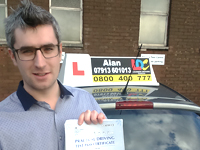 Craig Frew
Passed 1st Time
I greatly benefited from the calm and friendly instruction of Alan and would highly recommend him to anyone. I had perviously struggled with my confidence in the car resulting in a series of bad experiences over 7 years ago. I left my first lesson with Alan feeling reassured and hopeful of passing my test. Week after week my driving improved considerably thanks to Alan's clear and professional instruction which made driving an enjoyable experience again.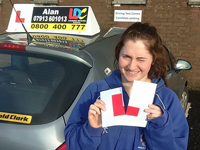 Nicola Gibson
1st Time Pass
After taking lessons before at 17 and getting no where I decided 5 years later to try Alan. I started the lessons with no confidence and with a fear of other drivers and driving myself, he has built my confidence up and made me believe that I can drive and that I have the ability to pass ☺ lovely guy and a great instructor, thanks Alan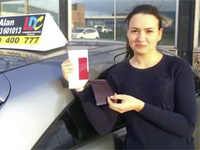 Linda Diana
I consider myself very lucky for getting Alan as my first and only instructor. He is definitely the instructor to have, if you're looking for smooth learning experience. Always professional, patient, friendly and cool-headed, Alan will help you pass your test even if you lack confidence, are very nervous and have a leg nervously twitching on the pedal, like mine did. The most, I loved how he made difficult actions seem easy at the start, by dividing driving responsibilities and then gradually increasing the difficulty, until I had the full responsibility of the car and road. Another thing to add is that Alan was really easy to understand, considering that English is not my native language. I would recommend Alan and the LDC course to everyone - you won't regret it!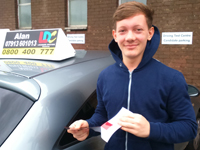 Jack Chalkley
Alan was a great instructor, always kept me calm and reassured throughout out my driving. He was constantly keen on making me a better driving by pinpointing my weaknesses. I would recommend Alan to anyone wanting to pass their driving test!
Kevin O'Donnell
Alan was very patient and explained everything well. I found him very good and would highly recommend him to anyone looking to get through their test.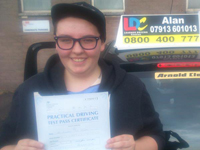 Rhiannan Girvan
Amazing man, very calm and friendly. Helped me pass after 2 other driving instructors didn't in over a year of driving. He was the man to get me through my test at first attempt. Thank you very much Alan! :)
Allie Girvan (Mum) - Big thank you to Alan for getting Rhiannan through her test and giving her confidence and enthusiasm a much needed boost.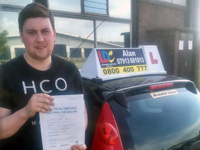 Ryan Knox
I highly recommend Alan. I enjoyed all of my lessons and was always learning to my pace with a great instructor. Ffelt welcome from the first lesson and it was always a good environment to learn in, and am now looking forward to many years of driving thanks to Alan.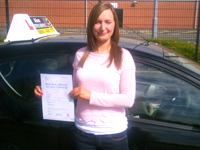 Gillian Miller
Learning to drive with Alan was a very positive experience. All lessons are forward planned to enhance development, Alan is approachable and no question is too silly to ask. I would highly recommend learning to drive with Alan, his calm and relaxed attitude can encourage even the most nervous person. I can't thank him enough for helping me pass my driving test.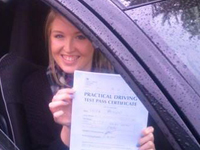 Laura Dickson
Incredible driving experience with Alan.
So friendly and encouraging from the get go. I was instantly made to feel very comfortable & confident in my driving. He taught me all the skills required to make me a good driver & enabled me to pass my test first time. Would recommend him 110 percent!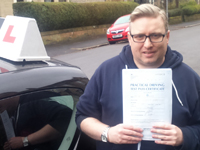 Brian Corry
Alan has a calm and reassuring manner during lessons that helps install confidence. His approach is structured and tailored to the individual strengths and weaknesses of the driver, allowing simple pointers, methods and techniques progress development at a steady and suitable rate. He always offers encouragement and positive feedback when necessary, and his advice for improving and maintaining aspects of driving was absolutely critical to me passing first time with very few minor errors. He is a natural teacher, and if you want to pass your test with the help of a safe and assured pair of hands, you can do no better than Alan. Highly recommend!
Jeremy Bielecki
Alan teaches to drive in a calm and friendly manner. He carefully plans each lesson to provide a smooth learning progression which shapes the skills needed in order to pass a test. He offers great feedback and advice on how to improve one's driving. He also does what's best for the pupil and their safety. Highly recommended.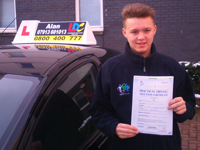 Aiden Thorburn
Just passed my driving test first time thanks to Alan. Great Instructor only needed 17 hrs of lessons. I would highly recommend him made me feel as ease and his teaching methods and encouragement led to a first time pass with only 5 minors. Thanks.